I'm sorry, I haven't been a very good blogger lately. I can't believe I haven't updated in a week and a half! As I said, I'm very sorry. I've been super busy with homework, piano, sewing, volleyball, etc. Plus, I've been working on Beauty and The Beast as quickly as I can so I can send it to Emma (who won my contest) and then show it to the rest of my amazing readers later. That's been taking up most of my doll time. So, once again, sorry and I'll hopefully be updating more soon. For now, here are my favorite retired modern girl AG outfits. (All of these photos belong to
agplaythings.com
, not me)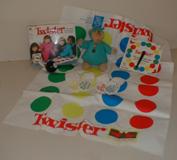 This is the slumber party gear and bear from 1996, that's before I was born! I love the mini twister (One of my favorite games!)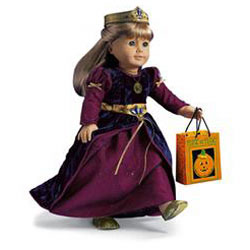 Midevel Princess outfit from 1998. I wish they still made lots of Halloween costumes, and doesn't this look really well made?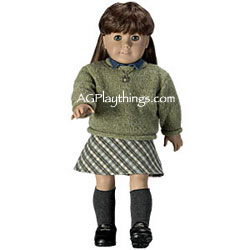 Such an adorable school outfit! I especially love the skirt. It's the Plaid Skirt and Sweater outfit from 1999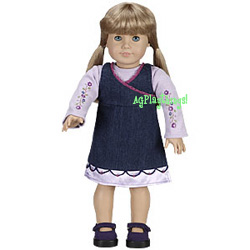 Purple is my favorite color, and it looks great on this doll! The shirt is the best. This is the denim jumper outfit from 2001.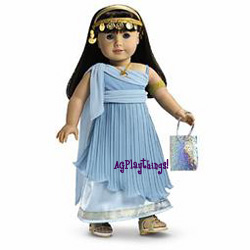 This is my last favorite, the Grecian Princess Costume from 2004. Isn't it awesome? I love the headdress to peices!
What's your favorite retired AG outfit(s)?
~Katie~