Hiya guys! I saw this on
Gabby's Blog
and thought it looked fun!
1. What American Girl do you look most like? (please post photos to compare!)
I look the most like this cutie, but I have blue eyes, not brown, and I have side bangs. (Sorry, no comparison photo)
2. What InnerstarU avatar do you think you look most like?
If you straightened the avatar's hair she'd look a lot like me.
3. How many American Girl Places have you been to?
I've been to the NYC one once, for my 10th birthday. I had a great time. :)
4. Who is your favorite doll that you own?
Hmmm, I don't really have a favorite, but Molly was my first and she's very special so I'll say her.
5. What AG doll outfit would you like to wear?
I love this outfit soooooo much. :)
6. What AG Accessory do you wish you had for yourself that was real?
These boots are utterly adorable! :)
7. What AG furniture piece do wish you had for yourself that was real?
Ever since I was about seven I've ADORED Molly's bed. It looks so comfy! It wouldn't really go in my room, though.
8. (only answer this question if you are familiar with the Hogwarts houses!) Which doll (GOTY, HC,) do you think belong in each Hogwarts house (name at least one doll for each house)?
Gryffindor: Felicity, Emily, Molly and Nellie
Hufflepuff: Kirsten, Lindsey and Samantha
Slytherin: Hmmmm, this is a tough one. I'm going to cheat a little and take a character from Kit's books: Uncle Howard
9. What's your favorite AG online game?
Molly's Pedal Power! I used to play this for hours when I was little. :)
10. If InnerstarU was a real place, would you want to go there are participate in the activities and 'go to school' there?
I don't have an InnerstarU account, so I can't really answer that.
11. What doll do you want next?
Hmmmm, I'd really like a Nellie or a Lindsey doll, but I don't know if I'll ever get them.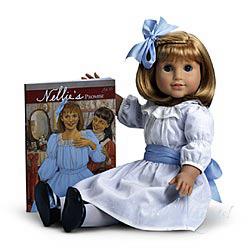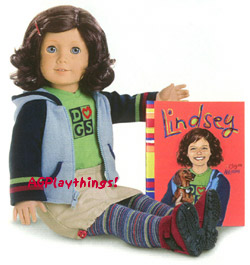 12. If you could be any AG doll, who would you want to be?
Molly. She just has so much energy, just like me!
13. When do you make your first AG Christmas Wishlist?
Uh, ussually around November my mom asks me what I want for Christmas. I make her a list and put AG stuff on that.
14. What's if your favorite line of dolls (HC, MAG, GOTY, Bitty Baby/Bitty Twin)?
Historical Characters. Each of their stories is so inspiring, and I like learning about the different time periods.
15. Why do you like American Girl?
I like AG because their merchandise is such good quality, espcially compared to most other 18" doll companies.
16. What's book (series)?
I'm guessing this means my favorite book series. I'm going to go with the Sisterhood of the Traveling Pants because I love how Carmen, Tibby, Bee and Lena are such good friends. (There's a fourth book not in this picture)
17. What's your favorite jam/jelly? Please post a picture!
My favorite jam is the Blueberry Jam made by some wonderful members of my neighbors' church. The ladies that make it sell it at the church's Fall Festival
every year. My family is one of their best costomers. I'd post a picture, but we finished all that we bought last year.
18. If you could live in any other time period but your own, what would choose?
The 1940's or 50's. I think I'd look great in Saddle Shoes, and if I was from the 50's I could wear my poodle skirt to school. :)
No, but I love coffee ice cream.
20. What's your favorite TV show?
If I had to narrow it down to one, MASH. Gary Burghoff, Alan Alda, Larry Linville and Jaime Farr are so funny!
21. Do you think you're funny?
I think I'm funny. Not everyone agrees with me, though. ;)
22. What are your family members doing right now?
My dad just got back from work, my mom's making marinade for ribs (yum!) and my brother is probably watching TV or playing XBox.
23. Have ever watched a show made in a year before 2000?
Yep! MASH, The Waltons, Flipper, Chicago Hope and Little House on the Prarie to name a few.
24. What did you have for lunch today?
I didn't eat lunch yet. For breakfast I had cinnomon toast and milk.
25. What's your favorite snack?
The snack that smiles back . . .
26. Who's your favorite actress?
I really like Gabrielle Anwar, AKA Fiona from Burn Notice. Do NOT mess with her!
27. Who's your style icon (c'mon- you must have one!)?
Well, I really like Kimberly's designs from the current season of Project Runway. Does that count?
(She designed this outfit, isn't it cute?)
28. What's your favorite brand of popcorn?
29. What's your favorite blogging platform (Webs, Wet Paint etc.)?
Blogger is the only one I've ever used, and I like it very much.
30. Why do you like being a blogger?
I like sharing my ideas and my doll collection with my readers. I also like ranting on my blog every now and then. :)